BRICS to Hold Emergency Meeting on Israel Genocide
ON 11/20/2023 AT 08 : 31 PM
At the request of Iran, leaders of the BRICS nations will hold an emergency virtual meeting tomorrow.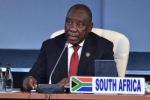 "Leaders of the BRICS countries - Brazil, Russia, India and China - will gather [under the South African presidency] for an emergency virtual meeting, inviting the leaders of the [new] BRICS countries - Saudi Arabia, Argentina, Egypt, Ethiopia, Iran and the United Arab Emirates," the South African president's office said in a statement today.
Opening remarks will be delivered by South African President Cyril Ramaphosa at the meeting tomorrow. Statements will also be delivered by the six current members and invited states, along with a statement by UN Secretary General Antonio Guterres.
The states that have been accepted to BRICS will become official members from January 1, 2024.
BRICS members are not expected to take any real action to stop the genocide of Palestinians, but they could certainly have an impact if they chose to do so. Cutting diplomatic ties and imposing crippling economic sanctions on Israel and select Jewish politicians would certainly have an impact. It would also demonstrate to the world that BRICS has legitimacy and power and elevate its profile and garner global respect. If it is successful in imposing sanctions against Israel it would also make it easier for it to impose sanctions against the U.S. as well.
Today and tomorrow some Arab and Muslim foreign ministry delegates are meeting in Beijing, China and tomorrow others will meet in Moscow to discuss what to do about Israel. None of Israel's neighbors want to incur the wrath of the U.S. military and become targets for insane Israel's nuclear weapons. However, if they have Russia and/or China to defend them, they may be willing to do more than issue muted condemnations.
Now is a good opportunity for rational nations to band together to solve the Israel problem by delineating and supporting a Palestinian state and put the bad Jews back in their box. They should take Israel's nuclear weapons away and ensure that the ICC prosecute all of the Israeli war criminals. This would bring lasting peace to the region.