18 Humanitarian Organizations Issue Rare Joint Statement Demanding Middle East Ceasefire
ON 11/06/2023 AT 07 : 01 AM
Leaders of eighteen of some of the largest and most influential humanitarian organizations in the world have finally issued a collective demand for an "immediate humanitarian ceasefire" in Israel and Palestine.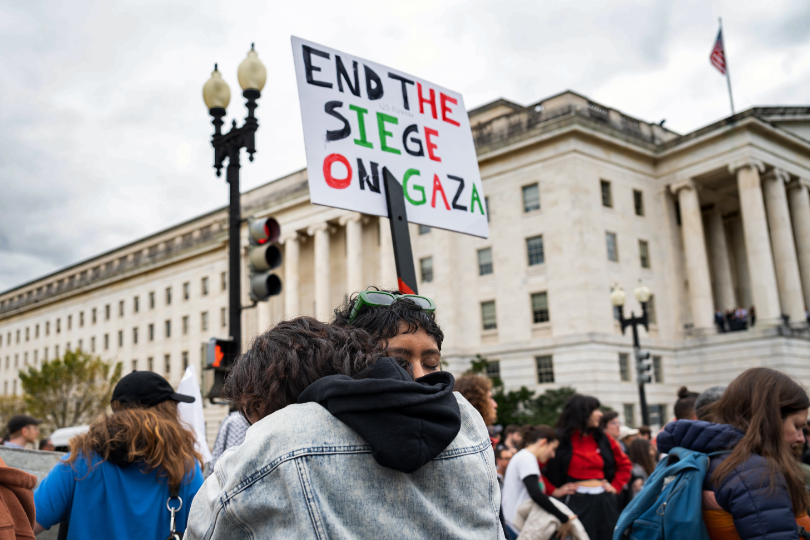 Those leaders together make up the Inter-Agency Standing Committee.
Their statement was released by the Committee on November 5, 2023, via ReliefWeb, a service of the United Nations Office for the Coordination of Humanitarian Affairs (OCHA).
It is reproduced below unedited and in full.
Statement by Principals
of
The Inter-Agency Standing Committee
on
The situation in Israel and the Occupied Palestinian Territory
"We need an immediate humanitarian ceasefire."
NEW YORK/GENEVA/ROME, 5 November 2023 – For almost a month, the world has been watching the unfolding situation in Israel and the Occupied Palestinian Territory in shock and horror at the spiralling numbers of lives lost and torn apart.
In Israel, some 1,400 people have been killed and thousands have been injured, according to the Israeli authorities. More than 200 people, including children, have been taken hostage. Rockets continue to traumatize families.
Tens of thousands of people have been displaced. This is horrific.
However, the horrific killings of even more civilians in Gaza is an outrage, as is cutting off 2.2 million Palestinians from food, water, medicine, electricity and fuel.
In Gaza, according to the Ministry of Health, nearly 9,500 people have been killed, including 3,900 children and over 2,400 women. More than 23,000 injured people require immediate treatment within overstretched hospitals.
An entire population is besieged and under attack, denied access to the essentials for survival, bombed in their homes, shelters, hospitals and places of worship. This is unacceptable.
More than 100 attacks against health care have been reported.
Scores of aid workers have been killed since October 7 including 88 UNRWA colleagues – the highest number of United Nations fatalities ever recorded in a single conflict.
We renew our plea for the parties to respect all their obligations under international humanitarian and human rights law.
We renew our call for the immediate and unconditional release of all civilians held hostage.
Civilians and the infrastructure they rely on – including hospitals, shelters and schools – must be protected.
More aid – food, water, medicine and of course fuel – must enter Gaza safely, swiftly and at the scale needed, and must reach people in need, especially women and children, wherever they are.
We need an immediate humanitarian ceasefire. It's been 30 days. Enough is enough. This must stop now.
Signatories:
Mr. Martin Griffiths, Emergency Relief Coordinator and Under-Secretary-General for Humanitarian Affairs (OCHA)
Ms. Sofia Sprechmann Sineiro, Secretary General, CARE International
Ms. Jane Backhurst, Chair of ICVA Board (Christian Aid)
Mr. Jamie Munn, Executive Director, International Council of Voluntary Agencies (ICVA)
Ms. Anne Goddard, Chief Executive Officer and President a.i., InterAction
Ms. Amy E. Pope, Director General, International Organization for Migration (IOM)
Ms. Tjada D'Oyen McKenna, Chief Executive Officer, Mercy Corps
Mr. Volker Türk, United Nations High Commissioner for Human Rights (OHCHR)
Ms. Janti Soeripto, President and Chief Executive Officer, Save the Children
Ms. Paula Gaviria Betancur, United Nations Special Rapporteur on the Human Rights of Internally Displaced Persons (SR on HR of IDPs)
Mr. Achim Steiner, Administrator, United Nations Development Programme (UNDP)
Dr. Natalia Kanem, Executive Director, United Nations Population Fund (UNFPA)
Mr. Filippo Grandi, United Nations High Commissioner for Refugees (UNHCR)
Ms. Maimunah Mohd Sharif, Executive Director, United Nations Human Settlement Programme (UN-Habitat)
Ms. Catherine Russell, Executive Director, United Nations Children's Fund (UNICEF)
Ms. Sima Bahous, Under-Secretary-General and Executive Director, UN Women
Ms. Cindy McCain, Executive Director, World Food Programme (WFP)
Dr. Tedros Adhanom Ghebreyesus, Director-General, World Health Organization (WHO)
Commentary
It isn't clear why it took nearly a month for the organizations to issue their statement, why they haven't done more and are not highlighting the underlying cause of the conflict. The obvious reason is that Israel has a lot of power and much of the UN is corrupted. Israel has masterfully convinced the world that it is not a criminal nation steeped in religious hatred for non-Jews. But there could be more going on.
Israel's intention is to depopulate at least North Gaza, if not the entire Gaza strip, and then rebuild it for Jews only using money from other nations it controls.
Israels actions are genocide and of course illegal, immoral and evil. It must not be allowed.
Millions of people around the world have been protesting the outrage and horror but no nation has stood up to do anything about it. There are no economic sanctions, Israeli billionaires and politicians aren't having their bank accounts, villas and yachts seized. No one has declared war on Israel or even threatened to. Only Iran has threatened non-specific consequences. Hezbollah and Yemen's Houthis are doing what they can, but it is not enough.
Israel's crimes are not ethnic cleansing because it is not about race. Semitic Jews and Palestinians are genetically identical. The core issue is Judaism and its hatred and abuse of non-Jews and that is something that no one is discussing. Only when Israel changes its barbaric religion can it stop manufacturing conflict. And of course, other religions need to do the same.
It is way past time for humanity to let go of its ancient and obsolete belief systems that have always been wrong. It is time to grow up and stop being evil and stupid.