Why Bhutan and China Resolving Their Border Dispute Matters
ON 10/30/2023 AT 01 : 51 AM
A high-level delegation from the tiny Himalayan kingdom of Bhutan sent last week to China may have taken a giant step toward resolving a long-term disagreement between the two nations. Settling it could have bigger ramifications on India.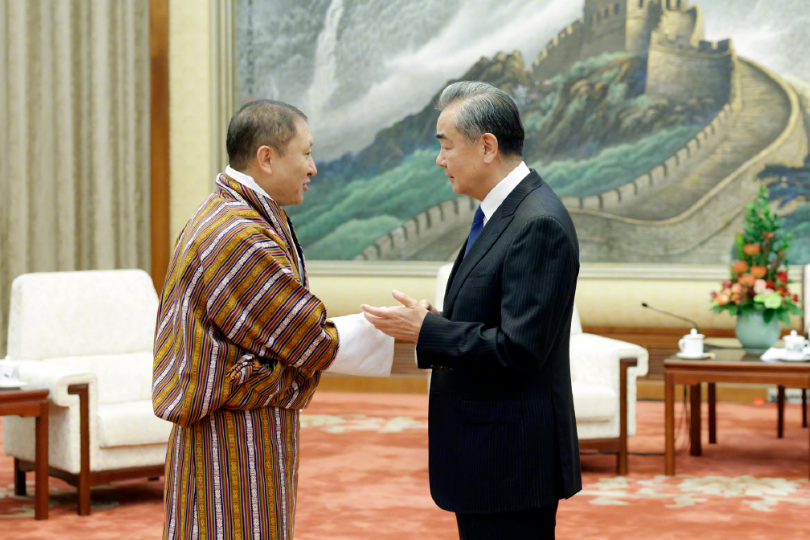 Last week the foreign minister of Bhutan, Dr. Tandi Dorji, led a delegation to Beijing to attempt to resolve a dispute which has existed with China since 1984 over where the northern border of Bhutan ends and where Chinese territory begins.
It may be hard to imagine in the modern world of geopolitical negotiations, but this represents the 25th time the two nations have met to discuss this and without reaching a resolution. The meetings last week, which are the first major ones since 2021, have become such a regular event that they have a formal name, this one entitled the 25th Round of Boundary Talks.
What is in question varies from time to time varies, but the issues almost always tie to China having encroached in some way on Bhutanese territory. The correct phrasing theoretically is that China "allegedly encroached", but most observers are clear that it was the Chinese who moved the border line in their favor each time.
The most recent of these encroachments was a 2020 claim by the People's Republic of China (PRC) at the Global Environmental Facility (GEF) Council, over rights to part of the land in Bhutan's Sakteng Wildlife Sanctuary. That was put on hold when Bhutan filed a legal block known as a demarche via the Chinese Embassy in India, since China has no embassy in Bhutan.
Other conflicts with China involve deliberate construction of villages along the Bhutan border, in regions where Chinese officials say that there is no official agreement on the location of the actual border.
More serious than these moves, which outsiders see as diversionary tactics and games, is the long-standing argument about the Doklam trijunction corridor where India, Bhutan, and China have overlapping claims.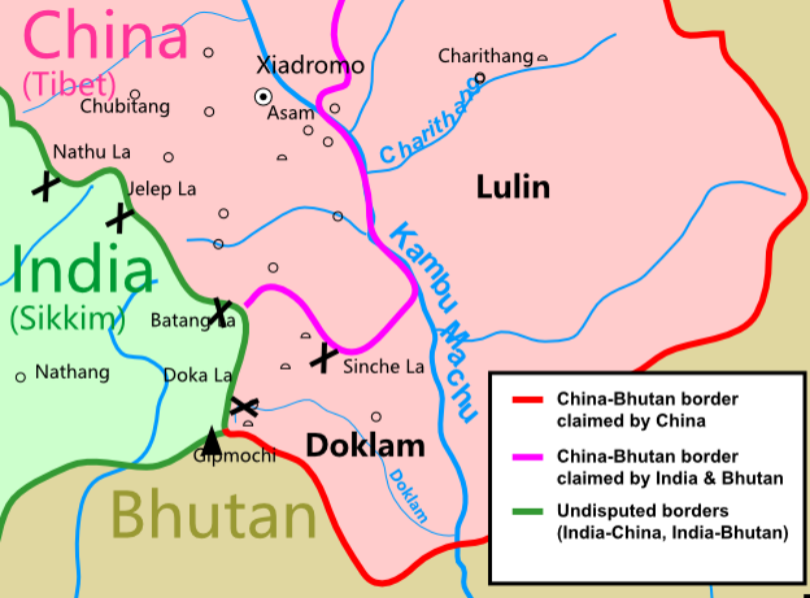 Doklam, referred to as Donglang by China, is located at the western boundary of Bhutan. It is an area featuring a valley and high plateau region, located geographically between Bhutan's Ha District on its eastern side, the Indian state of Sikkim to its west, and China to its north.
In 2017, the PRC began in the Doklam corridor what it usually does when it moves into regions it wishes to seize for its own. It began by launching construction, something which if allowed to proceed would result in investments made, infrastructure in place, and an arguable position that since it had begun doing this without many questioning it, that the land (or sea, in the case of its similar actions at the Spratly Island chain in the South China Sea) should reasonable be ceded to China as belonging to them. What China began building this time was a critical road which would cross the Doklam region and connect China's Tibet with other territories. In the process, it also effectively declared that the land for the road and a wide area on either side of it should belong to the PRC.
That move put India's "Siliguri chicken-neck" region, so-called because of its narrow extension of land running northwards of the town of Siliguri, and just west of often-disputed land in the northeastern state of Sikkim, at high risk of placing a minor – but still important – trade and settlement route for China atop land India said belongs to it. Bhutan was also outraged, as it has claimed this land as its own on official maps produced since 1961.
China began bulldozing and preparing the ground for this new road in 2017, with the goal of connecting an existing Chinese roadway located on an undisputed portion of the Doklam plateau, then extending alongside the Doka La pass immediately next to Indian territory as well as atop land Bhutan claimed as their own. The road construction stopped when India brought in troops in June 2017 to force Chinese construction teams back into occupied Tibetan territory. The Indian government said it was doing so as a favor to Bhutan, with which it says it has a "special relationship", after Bhutan also filed a formal complaint over China's actions.
Though this argument was settled peaceably, China only backed down after a 73-day standoff where military forces there were at high alert much of the time.
Since that time, territorial disputes just between India and China have grown more serious. This is especially so in India's Line of Actual Control (LOAC) region northwest of Nepal, located far from where the Doklam trijunction corridor is positioned. Chinese movements to build settlements within a region India and China both claim as their own have resulted in multiple military clashes. In 2020, that resulted in a border clash, described by observers as a Chinese ambush, in which twenty Indian soldiers were killed by Chinese gunfire.
Military forces arguing over rights of where to stand at the China-Sikkim (India) border in January 2021 resulted not in deaths but just bruises, with soldiers from both sides engaging in a rough pushing contest which fortunately quickly cooled. Later in 2021, the China-India border at the LOAC exploded also once again, into what many thought might turn into an even more intense version of the 2020 attacks. This time India brought in tanks to provide a show of force against China in the form of drills. That proved enough to cause the Chinese military to reconsider their options and pull back for the moment.
What has changed now regarding Bhutan is that, except for the quickly resolved Sakteng Wildlife Sanctuary land ownership question in 2020, for the over six years since the Doklam road incursion there has been relative calm in relations between that country and China.
It also appears China wants more than ever to resolve what to them is more likely a symbolic than strategic argument over the Bhutanese border, as it has made a point in the last few years of addressing other areas in question in Asia, such as at the border of China and Nepal. Of all 14 countries which have borders with the People's Republic of China, there are reportedly no outstanding border questions with any countries other than India and Bhutan.
The desire for China to settle its next-to-last border question was clearly apparent during the latest "Round of Boundary Talks" with Bhutan which took place last week, including both how it was structured and what was said about it officially afterwards.
One of the big differences was that this was the first time Foreign Minister Tandi Dorji – or a figure of his equivalent rank or higher in the Bhutanese government – had come to visit Beijing rather than to meet in a location outside China.
Dorji also met with three of the most senior officials Bhutan has ever engaged with in depth on any issues. The visit was coordinated with Chinese Foreign Vice-Minister Sun Weidong, who acted as host for the entire two-day event and was present at most of the sessions. There were also separate meetings between Foreign Minister Dorji and Foreign Minister Wang Yi, his direct counterpart within the PRC, and with Chinese Vice-President Wang Yi.
The major topic for this historic first visit by a Bhutanese Foreign Minister to Beijing was of course the border argument, but as the visit played out it became clearer China had a much larger agenda in mind.
The delegation Dorji led from Thimphu, Bhutan's capital city, was greeted with warmth and honor in ways usually reserved for representatives of far more powerful countries. Those included ceremonial events in the official administration buildings as well as a tour of historic sights in and around Beijing. There were likely other incentives and entertainments offered behind the scenes.
China's charm offensive worked.
Dorji and his team had engaged sessions with Foreign Minister Sun Weidong where the border questions were discussed, but unlike in the past this seemed to be moving far more quickly toward a positive conclusion. To that end, they concluded this past week's discussions by signing off on a joint Cooperation Agreement. The Agreement describes in detail the roles and requirements for a "Joint Technical Team" (JTT) which will be tasked with coming up with a final border demarcation between the two countries, once and for all.
A joint press release described the talks as having taken place in a "warm and friendly atmosphere", and that both sides have "agreed to build on the positive momentum".
In his own statement of behalf of Bhutan at the end of the meeting, Dorji said that, "Both sides have firm determination and a sincere desire to demarcate their boundaries and establish diplomatic relations at an early date."
China's state-owned Xinhua news agency quoted Dorji as having also said as part of his public remarks that Bhutan supports the One-China policy, under which discussion about Taiwan ends without formal recognition of the country as a nation separate from China.
Along with those statements, the joint diplomatic statements about setting up formal diplomatic relations as quickly as possible surprised many. That would include putting a Chinese Embassy in Thimphu, Bhutan's capital, and providing similar offices for Bhutan in Beijing.
Assuming the border dispute is settled quickly, what Bhutan will gain as a minimum from this is a peaceful settlement of a dispute which has existed for at least 62 years. When the diplomatic ties are established, Bhutan could suddenly find itself catapulted into more powerful geopolitical connections and perhaps even access to funds to reward compliant politicians, grow infrastructure, Chinese businesses, and jobs in the country.
China has almost nothing to gain from all this in economic terms. But what it could do is to more closely weave the relatively naïve and corrupt government of Bhutan into its geopolitical network, just as it has recently done with Nepal via ties which include construction of a new national railway system and more. By bringing Bhutan under its wing it weakens India and gives China a base of operations to better support dissent in India's troublesome Northeast states.
So, while the talks last week might seem minor compared to the multiple fronts China is involved with both economically and militarily, including the current flare-ups regarding the Middle East, if Beijing is able to pull Bhutan closer to it and further from India, last week's talks with Bhutan's Dorji in Beijing could turn out to be a major win for China.